Excused Absence Nights – An All Ages Show
 Comedy Shows for All Ages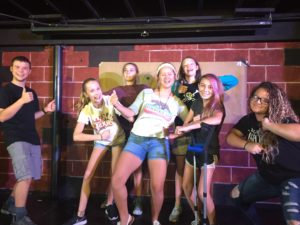 Excused Absence Nights!
Sundays at 5 pm
Each week, ColdTowne welcomes both youth and established adult performers to perform original improv, sketch and stand up.
In addition to family friendly performances, shows feature an Improv Jam. Audience members are invited to join performers on stage for low pressure, supportive and occasionally very silly comedy.
We are Austin's only regularly scheduled comedy show designed to give young performers the chance to see both peers and experienced adults perform.
It is awesome.
When?
Sundays, 5 to 6:15 pm.
Who?
Appropriate for audiences of all ages. Children 6 and under might prefer our Saturday morning show, What's the Story Steve – but are welcome at this show.
Jam is for any audience members who wish to participate.
Where?
ColdTowne Theater
4803 Airport Blvd.
Austin, TX 78751
(Adjacent to I Luv Video)
Google Map 
How much?
Tickets are available at the door, pay what you wish
The Schedule
Check back regularly for updates!
February 19: SheSheSheShe
February 26: Snapshot & Friends
March 5: Excused Absence Teen Night with S'Nailed
March 12: No Show
March 19: Sugar Water Purple & Sketch Showcase
March 26: LoverBoy
April 2: Excused Absence Teen Night with ThunderDome
April 9: Class Show Case
April 16: No Show
April 23:
April 30: Joshua's Stage
May 7: Student Shows and Excused Absence Teen Night
Information for performers is here.