'round Round Rock and such
"There she is," said Emma, pointing at the great city's namesake, stranded in the middle of a gently flowing Brushy Creek.
Not to let her admiration go unheard, Kristin informed the group, "That's the roundest rock I ever seen." She rubbed both eyes with her hands to confirm what she was seeing was not an illusion.
The serene silence was broken by Chris and Mason who began fighting to see who could touch the rock first.  Mason shouted, "Nuh uh, my arms are longer!"
"That don't matter none cuz my legs are longer anyway!" Chris shouted back.
……….
Gotta be honest, guys, the above excerpt from our teleplay Round Rock didn't actually happen quite like that. Our trip to the Round Rock Public Library was way more interesting and harmonious.
Today we pulled off a triple header, doing an early show followed by a couple classes for kids of all ages.
The show was similar to what we've been doing all summer but the classes gave us an opportunity to give a peak behind the curtain and show the audience members how we do what we do.
For the first class we broke into groups and spent about 30 minutes teaching different games to each group.  Students had it in no time so by the end of the 30 minutes we reconvened for a student-led showcase, where each group introduced and demonstrated their own game.
Pretty fun times.
The afternoon class was more of a full participation in large group games where everyone came together to focus on listening and accepting the offers of their partners.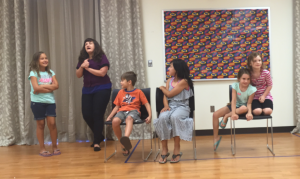 Thanks again to the Round Rock library and all the parents and children who came out to see what Move Your Tale is all about!