Libraries, Schools and Events
Traveling shows and workshops are big, entertaining adventures in storytelling. Audience members help create and direct the show through suggestions or by joining us on stage as characters, sound effects and objects. You may choose from one of our standard formats below, or we can create a custom format for you! Shows usually run about 50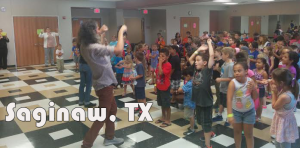 minutes.
Each summer Move Your Tale performs in libraries throughout Texas (you can read about them in our Tour Diary). We love to bring our Improvised shows and workshops to audiences eager to help us create hilarious stories on the spot.
Choose from a suggested format, or create your own.
Classic Move Your Tale Shows
Our "Classic" format opens with our cast onstage taking suggestions for fast paced Improv games. This is followed by an interview with a child in the audience, that the cast then turns into a short play. Depending on the number of children attending, we then either invite all who are willing to come on stage to become objects, or with a larger audience, we ask them to transform in the spot where they sit. Our performers will then tell a story using participating children as props, characters and sound effects. This show is very fast paced, interactive and designed to fit the needs of the age group that attends.
The League of Extraordinary Improvisers
This group of average, everyday improvisers find themselves in possession of superpowers.  Help them embark upon new adventures as they learn to balance their new abilities and maintain order in the Universe!  Children are encouraged to join our actors on stage for improvised games and scenes if they wish, or to participate by supplying suggestions from the audience.
Fit Bits
Comedy with a focus on fitness.  Fit Bits is a 50 minute show that invites audiences to find humor in healthy choices, creating stories from the playing field and lighthearted comedy competition. From the beginning of the show, audience members are invited onstage to help our performers perform an original show.
Customized Shows
We are delighted to customize a performance based on themes you choose. P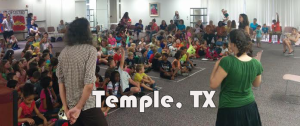 ast shows have built on some of the following:
friendship, courage, inclusiveness, the arts and more…
Add on a Post Show Workshop
Our performers are always excited to follow up the show with a more personalized improv experience, further exploring the stories and ideas from the show through guided activities.
Heavy on improv games and high energy interaction, this 40 minute post show workshop features some of our most kid pleasing activities.  We use the exercises to share some basic improv ideas: listening to your scene partner, always saying "yes, and," and having fun in the moment.  Positive, supportive, and empowering!
50 minute performance
$350 to $450, depending on cast size, plus mileage out of area and $75 for shows requiring an overnight stay. Ask about multi-show discounts and mileage/overnight fee sharing.
Post Show Workshops
$75.00 per group