Meet MYT is an ongoing series where we talk with Move Your Tale staff to get an idea of who we are and what we want to do with our programs.
Today we're talking with Improv for the Stage (Sunday) instructor, Mason Pitluk. Mason has been part of the Austin Improv Collective for a few years now, working primarily out of The Institution Theater in South Austin. Mason has taught at a number of Move Your Tale summer camps but this is his first foray into a regular fall class: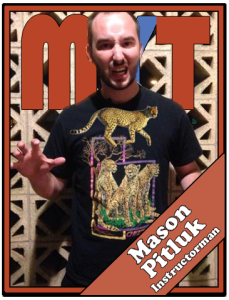 Who are you, where did you come from and why do your students like you so much?
Oh my, well that's a loaded question. I'm Mason Pitluk, and I come from San Antonio, TX. I think my students like me so much because I'm a fun, straight-forward individual. Don't tell them this, but my secret to teaching kids (especially teens) is making them think I'm treating them like adults.
When did you first learn about improv and when did you decide to take the plunge?
I'd always known of improv, generally, as this form of comedy where performers were just making stuff up. Like many people, I think my perception of improv was largely shaped by the television show Whose Line is it Anyway? While that show is, undoubtedly, fantastic, I think using that as a basis for all improv is a little like watching The Goonies and deciding that's what all movies are like. Super cool perspective, for sure, but ultimately it might leave you a little unprepared for City of God or Raging Bull. My greater understanding of improv first took real form about two years ago when my sister, Jessie, became involved in the Austin Improv Community (or AIC). By watching shows around town I began to form a better understanding of just how many things were possible within this art form. Inspired by my sister (and by the thought that, heck, I've always been funnier than her) I started taking classes at the Institution Theater. While in my level 2 class I was cast in my first show and I haven't looked back since. In the past couple years I've performed comedy all over town, written and directed multiple shows, as well as TA'd three separate levels of adult classes, at the Institution, taught improv to students on the Autism spectrum at the Hideout Theater, taught improv to dementia patients through MYT, and had countless other fantastic experiences both performing and teaching the art form I now know and love so immensely. Wow. That answer got long.
What's your favorite part about teaching youth improv?
I've always loved teaching and have lots of professional experience in the field with students of all ages and all sorts of different learning abilities. My favorite part about teaching improv is that I get to combine two of the things I'm genuinely most passionate about into one pursuit. Additionally, I truly believe there are few, if any, more worthwhile pursuits for youth than improv; there isn't a single activity that's as valuable in terms of self-expression, confidence, creativity, and just plain fun as getting on stage and playing.
What do you think sets Move Your Tale apart from other youth theater organizations around Austin?
As embarrassed as she'll be by this response; Kristin Henn. Working for Kristin has been very special for me, because I've never had a boss within the teaching and childcare fields who is so naturally capable or to whom I've looked up to more. Kristin is great with her students, has a wealth of experience and knowledge at her disposal, and can, yes, improvise, like no other when a creative solution is needed.
Who has the best breakfast taco in Austin?
As a San Antonio native and Tex-Mex disciple, I've always been a fan of the hole-in-the-wall, greasy spoon type places. A good rule of thumb; if Telemundo or Univision is playing on a television somewhere in the restaurant, you've found a solid spot. With that in mind, I'll clue y'all in on a hidden gem – El Borrego de Oro, on Congress just north of Ben White. Their breakfast tacos are massive and delicious and cheap; anything and everything I could ever ask for.
Any parting words for the Internet?
Consider this sentence a plug for Late Night Time Machine.
And there you have it, folks: Mason Pitluk and the Late Night Time Machines!
To sign up for a class with Mason, click here.
To see our complete schedule of classes see our Classes page.